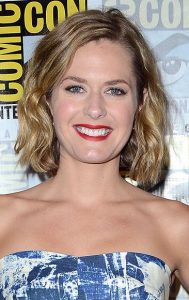 Hollywood actress Maggie Lawson had her career beginnings in the mid-1990s. During her early years, she appeared on the television shows Unhappily Ever After (debut) and Boy Meets World, among others. She also appeared as Jennifer in 12 episodes of Cybill. Her first movie appearance was in 1998's Pleasantville. She next had a recurring role as Alexa in Party of Five. In the 2000s, she starred as Liz Stoddard-Banks in It's All Relative. Her major breakthrough was as Juliet O'Hara in Psych. The series ran for eight seasons, gaining her mainstream fame. Simultaneously, she starred in the movies Cleaner and Gamer. After the show ended, she played Ms. McMartin in the sitcom Two and a Half Men. She went on to join the main cast of Angel from Hell. She recently reprised her role as Juliet O'Hara in Psych: The Movie.
The 37-year-old actress stays in shape by sticking to a healthy lifestyle. For one, she chooses what foods she eats every day. She sticks to those high in nutrients and those that can boost her energy levels. In an interview, she got candid about eating habits. She said: "Rice cakes and peanut butter is my favorite snack in the whole wide world. In fact, I've got the entire crew on set hooked. It's kind of an obsession." She also likes snacking on apples.
Also, Maggie is fond of eating kale salad. She makes her own and tries to eat it at least one time every week. Just like any regular person, the actress also has pizza cravings every now and then. Every time she does, she prefers homemade pizza rather than ordering from a restaurant. She said: "It's a great, low-cal way to get your pizza fix. All you need is a little cheese and pita." When it comes to sweets, the actress opts dark chocolates instead of the milk ones. Dark chocolates are her go-to sweet treat and it's something that she always has in her house.