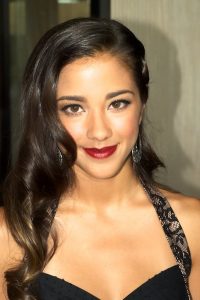 In 2007, Seychelle Gabriel had a brief role in an episode of Zoey 101. This marked her Hollywood debut. The following year, she had her first movie role The Spirit directed by Frank Miller. Her next role was as Adelita Reyes in the television series Weeds. She then guest-starred in an episode of Miami Medical. Gabriel's breakout role was as Princess Yue in the 2010 film The Last Airbender. Her performance here got her a Young Artist Award nomination for Best Performance in a Feature Film (Supporting Young Actress).
After this, she appeared in the film Honey 2. She then gained recognition among TV audiences for starring as Lourdes Delgado in the TNT series Falling Skies. Steven Spielberg served as executive producer for the show, which aired on its network for five seasons. At the same time, the actress also ventured into voice acting. As such, she starred as Asami Sato in the animated series The Legend of Korra.
In 2013, she appeared as Regina George in some episodes of the ABC drama Revenge. She later starred in the television film Beautiful & Twisted. She remained active in the movies as well, appearing in 2016's Sleight. Her latest performance on the big screen was in 2018's Blood Fest. In 2017, she played Lara in 3 episodes of Sleepy Hollow. Gabriel will also appear in the upcoming film The Tomorrow War.
Seychelle Gabriel keeps herself fit and strong by following an active lifestyle. As for her workout routine, it's nothing complex and intense. She prefers doing simple exercises that usually involves cardio and stretching. Another go-to workout for the actress is yoga. Interestingly, her interest in yoga started at a young age, something she got from her family. She also hopes to see more of it in Hollywood, so that other actors can experience numerous health benefits and wonders.