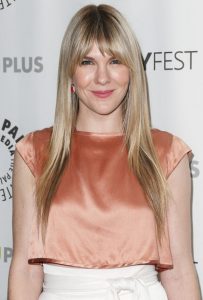 Hollywood star Lily Rabe made her screen debut in the 2001 film Never Again. She next had a minor role in the movie Mona Lisa Smile. On TV, she had her first role in an episode of Law & Order: Criminal Intent. She later had one-time roles in Law & Order: Special Victims Unit and Nip/Tuck, as well as appeared in 2 episodes of Medium. During this period, she had performances in the films No Reservations and What Just Happened. Her acting career flourished in the 2010s, specifically on television.
She first played Petra Moritz in 3 episodes of The Good Wife. She then played Nora Montgomery in American Horror Story: Murder House, gaining her recognition. She has since become a mainstay in the American Horror Story franchise. After the first season, Rabe played Sister Mary Eunice McKee in American Horror Story: Asylum. Afterward was the character of Misty Day in American Horror Story: Coven. Pursuing other projects, she played the lead in the short-lived series The Whispers in 2015.
Following this, she portrayed Aileen Wuornos in American Horror Story: Hotel. She returned to the show again — this time as Shelby Miller in American Horror Story: Roanoke. She recently returned to the latest season, American Horror Story: Apocalypse, as Misty Day. Going forward, it's been announced that she'll star in the upcoming TNT series Tell Me Your Secrets. She was also cast for the upcoming HBO show The Undoing. In the movies, she recently had performances in Miss Stevens, A Midsummer Night's Dream, Vice, Sgt. Will Gardner, and Finding Steve McQueen.
The 37-year-old actress takes care of herself by just doing the basics. She doesn't follow any strict diet plans nor does she practice any special diet tricks to keep herself healthy. Her diet plan is simple. Eat protein and whole grains. Plus eat more vegetables and fruits and drink lots and lots of water. Avoid processed and junk foods most of the time, especially the sugary and salty ones. Indulge once in a while but don't overeat.