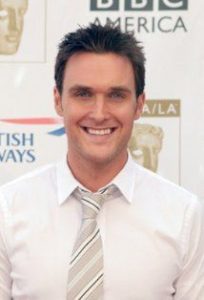 Welsh actor Owain Yeoman first appeared in the 2004 film Troy, playing the role of Lysander. Simultaneously, he had his first acting role on the small screen with Midsomer Murders. He later landed starring roles in short-lived shows – as Steven Daedalus in Kitchen Confidential and Lucas Dalton in The Nine. He also appeared in the film Beerfest, as well as guest-starred in the pilot episode of Terminator: The Sarah Connor Chronicles and played Sgt. Eric Kocher in the miniseries Generation Kill.
His most prominent role on television thus far was as Wayne Rigsby in the CBS crime drama The Mentalist. He was part of the show's main cast from 2008 to 2015. At the same time, he had performances in the films Chromeskull: Laid to Rest 2 and American Sniper and appeared as himself in several television programs like Entertainment Tonight. He then played Dr. Mason in some episodes of Extant and Vartox in the pilot episode of Supergirl. After The Mentalist, Yeoman starred as Benedict Arnold in the short-lived show Turn: Washington Spies. More recently, he starred as Benny Gallagher in the mystery-thriller series Emergence. Other film credits include The Belko Experiment, Brahms: The Boy II, and SAS: Red Notice.
Owain Yeoman is one of the actors in Hollywood who follows a vegetarian diet. He was even photopgraphed for PETA's vegetarianism campaign. "The fact that the meat on my plate was once a living, breathing creature became something I could no longer ignore or justify as food," said the actor about his decision to change his diet. From his experience, eliminating meat from his diet is not as hard as it seems. "As someone who felt they were a confirmed meat-eater, I guess ultimately if I can do it, then anyone can, you know―it's a really easy choice to make. And it's a humane choice to make," he said.