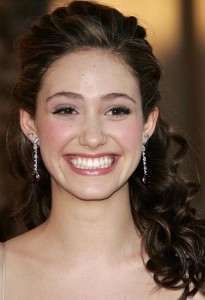 American actress Emmy Rossum is memorable not only for her talent but also for her ethereal-like beauty accompanied by her captivating smile. Starting her career on television soap opera, she transitioned onto the big screen with notable roles in Songcatcher and An American Rhapsody before getting further attention for her roles in Mystic River and The Day After Tomorrow. Though her big break came as the lead role in The Phantom of the Opera (2004), which garnered her good praises and even got her a Golden Globe nomination for the lead actress category. Before the end of the decade, she's had starring roles in Poseidon and Dragonball: Evolution. She returned to television in the beginning of the 2010s to star as one of the leads on the TV series Shameless.
Standing at 5'8, Emmy is prominently attractive with her pretty face and slender figure. To maintain her amazing appearance and her healthy body, she makes sure she works out regularly and eats healthy. Interestingly, Emmy grew up following a macrobiotic diet. She's also allergic to wheat so she also practices a gluten-free diet, which somehow helps her avoid from snacking on food items that can easily put on weight. She has actually dieted in the past, particularly for her role in Beautiful Creatures where she had to shed six pounds.
To achieve the said weight requirement, she was only allowed to consume 1,500 calories per day. However, Emmy is not keen in trying any juice cleanses. When she's not in a very good mood, she settles in drinking lemon and cayenne, which she has clarified is not a type of juice cleanse, but rather just a good way to bring back her energy and keep her going. When hunger strikes, her go-to snack is natural peanut butter on Gala apple slices or low-fat string cheese and grapes. She's also very fond of making her own green juice.