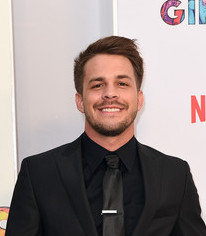 Hollywood actor Johnny Simmons started acting in short films in the mid-2000s. He later made his television debut in an episode of Numbers. In 2007, he played Dylan Baxter in the fantasy-comedy film Evan Almighty, which was his first movie role. He next appeared in the film Boogeyman 2, as well as played Young Denny Colt in the 2008 neo-noir superhero film The Spirit.
He then starred in the movies Hotel for Dogs, The Greatest, and Jennifer's Body. In 2010, he starred as "Young Neil" Nordegraf in Scott Pilgrim vs. the World and John Surratt in The Conspirator. His next roles on the big screen were in such movies as 21 Jump Street, A Bag of Hammers, The Perks of Being a Wallflower, and The To Do List. At the same time, he starred as Kevin Loud in the TV movie Cinema Verite and guest-starred in Elementary.
In 2014, he portrayed Jack London in the miniseries Klondike. Right around this period, Simmons had performances in several feature films, which include The Stanford Prison Experiment, Frank and Cindy, Transpecos, Dreamland, and The Late Bloomer. In 2016, he played the lead role in the sports drama film The Phenom. After this, he starred as Shane in the short-lived television series Girlboss.
For his workout routine, Johnny Simmons sticks to simple exercises to stay fit. But as an actor, there are roles that would require him to physically train harder. For instance, playing a baseball player in The Phenom had him training to know and execute the ins and the outs of baseball. "It was definitely hard from the get-go, learning how to pitch was literally painful because it usually takes about a year to stretch out your arm and we did it in a few months," said the actor.
"And I was throwing 75 mph strikes consistently by the end of that training, we worked for a long time and we worked really hard on it." As part of his normal fitness regimen, Simmons likes to perform cardio workouts and moderate weightlifting.