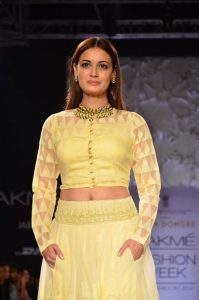 Indian celebrity Dia Mirza was a titleholder in beauty pageant before, having won the Miss Asia Pacific in 2000. As expected, this paved the way for an acting career in Hindi cinema. She made her debut with a leading role in Rehnaa Hai Terre Dil Mein. Her debut proved strong, for which she won Best Female Debut awards. Subsequently, she starred in Deewaanapan. She went on to have leading roles in the films Tumko Na Bhool Paayenge, Pran Jaye Par Shaan Na Jaye, and Dum, among others. The rest of the 2000s saw her starring in films as well as appearing as a supporting character. She also made special appearances in some movies. In the 2010s she ventured in Bengali cinema with her debut in Paanch Adhyay. Her latest movie is the Indian-Iranian film Salaam Mumbai.
The actress is already in her mid 30s. This is surprising since she looks very radiant and youthful. She also has a slim body that makes her appear many years younger. Aside from her great genes, the Indian star looks young and fit because she manages her health quite well. She eats right and works out. She makes sure that she only consumes nutritious foods to help her body obtain energy. Being in her mid 30s, she understands the importance of proper nutrition and how unhealthy eating not only affects her body, but also her mind.
That is why Dia is very disciplined when it comes to her diet plan. In the morning, she already has a healthy routine, which is drinking a glass of warm water with lemon or carrot or tomato juice. For breakfast, she typically has 2 egg whites, a bowl of cereal with a slice of toast and a glass of fresh fruit juice. For lunch, she loves to have a bowl of dal, some veggies and chicken with two chapattis. When she's on set for a movie, she opts south Indian food like idli with chutney. She then keeps it light for dinner with a bowl of salad and soup.