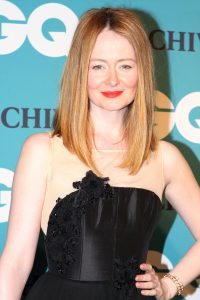 Aussie actress Miranda Otto started her work in her native Australia. She debuted as the titular character in the 1986 film Emma's War. For her performance in the 1991 feature The Girl Who Came Late, she was nominated for an Australian Film Institute Award for Best Actress. She was also praised for her work in the film The Last Days of Chez Nous. She later portrayed Patsy Cline in the movie Doing Time for Patsy Cline. In 1998, she made her Hollywood debut as Marty Bell in the movie The Thin Red Line. Her work in the US became more prolific in the 2000s, starting with the film What Lies Beneath.
It was, however, her role as Éowyn on The Lord of the Rings: The Two Towers that made her a familiar face among moviegoers. She reprised her role in the sequel The Lord of the Rings: The Return of the King. The rest of the 2000s saw her perform in the films Flight of the Phoenix and War of the Worlds. She also played Cricket Stewart on the miniseries The Starter Wife, as well as appeared as Juliet Draper in 7 episodes of Cashmere Mafia. In the 2010s, she played Maddy Deane on the TV series Rake. She also starred as Allison Carr on the Showtime series Homeland. More recently, she played Rebecca Ingram on 24: Legacy. She also currently stars as Zelda Spellman on Chilling Adventures of Sabrina.
Apart from her diet plan, the actress maintains her slender figure and healthy body by working out. While it doesn't seem like she has time for regular exercises, she does her best to incorporate workouts into her lifestyle. For her, staying active doesn't mean regularly hitting the gym. It can mean as simple as going out for a walk, a run, or playing sports. It can even mean running some errands. What's more important is that she has an active lifestyle overall.