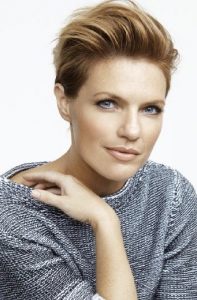 Actress Kathleen Rose Perkins debuted in an episode of the NBC sitcom The Fighting Fitzgeralds. Her next roles were in an episode of Miss Match and Without a Trace. After this, she pursued a career in the movies and had her first role in 2004's Burning Annie. The following year, she had performances in the film Living 'til the End, as well as in the TV movies Suzanne's Diary for Nicholas and Talk Show Diaries.
She continued her work on television, mostly appearing in one-episode parts. Some of these shows are Living with Fran, Just Legal, How I Met Your Mother, Four Kings, and Stacked. Later, she appeared as Jocelyn, a recurring character in the ABC sitcom Help Me Help You. Subsequently, she had notable guest roles in Nip/Tuck, Eli Stone, and Grey's Anatomy. She also starred in the TV movie Never Better.
Perkins also had recurring roles as Faye in The Game, Amy in Trust Me, and Joan Plummer in Gary Unmarried. She went on to play Ms. Duffy in 'Til Death and Rose Carlyle in NCIS: Los Angeles. The actress became better known for her role as Carol Rance in the television series Episodes. At the same time, she also had roles in the films The Pact, Cowgirls 'n Angels, Paradise, Enough Said, The Skeleton Twins, A Short History of Decay, Six Dance Lessons in Six Weeks, and Gone Girl. From 2016 to 2017, she also played Jennifer McMahon in USA Network's Colony.
Apart from eating healthily, the actress stays in shape by living an active lifestyle. The Kathleen Rose Perkins workout routine is by engaging in outdoor activities and sports like hiking and playing tennis. She even does Tae-kwon-do.
"I have been practicing this Korean form of martial art for over 11 years now and will soon be testing for my third degree black belt. I can't tout the benefits of this workout enough, especially for women. It works your core, balance, coordination, flexibility, agility, and control of space and distance, as well as provides self-empowerment, awareness, and discipline," said the actress.