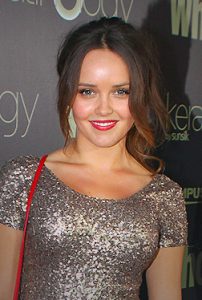 Rebecca Breeds debuted in her native Australia with the TV program Water Rats. She decided to focus on her acting career that she landed more roles on the screen. More notably, she starred as Tina/ Cassie Cometti in Blue Water High, joining the show's main cast from 2006 to 2008. Breeds became further known in Australia for her role as Ruby Buckton in the popular soap opera Home and Away, a role she portrayed between 2008 and 2012.
Staying there for some years, this established her television career. She then started pursuing a career outside Australia, starting with the Bollywood film Bhaag Milkha Bhaag. She simultaneously tried her luck in Hollywood as well. She finally got her first role as Abby Russo in the CBS sitcom We Are Men, though it got cancelled after only a season. Despite this, she continued auditioning and got the part of Nicole Gordon in Pretty Little Liars.
Her career further took off when she landed the role of Aurora de Martel in The Originals. She next had a performance in the miniseries Molly. In 2017, she guest-starred in an episode of The Brave. At the same time, she continued her career in Australia, starring in the movie Three Summers. She also recently starred in the movie Slam.
Rebecca Breeds works out not only to stay in shape but to also relax her mind. "Exercise is my relaxation. It's when I have some time to myself," said the actress. "I exercise every day. Depending on my energy levels I will exercise from 30 minutes to 90 minutes a day. I don't like the gym, so unless it's raining I will either go for a long, fast walk or a swim or a jog. I live near the beach so it's good to be outside."