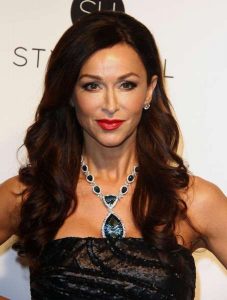 Sofia Milos is an Italian-Greek actress whose career began in 1992, debuting in the movie Over the Line. She next starred as Fabiana Borelli in the NBC sitcom Café Americain, which also marked her first television role. Afterward, she guest-starred as Aurora in the sitcom Friends. She continued making guest roles in such TV shows as Platypus Man, Vanishing Son, Weird Science, Strange Luck, and Mad About You.
From 1997 to 1998, she starred as Julia Karinsky in the comedy series Caroline in the City. She then joined the main cast of the show The Secret Lives of Men playing the role of Maria. In the 2000s, she appeared as Annalisa Zucca in 2 episodes of The Sopranos. Milos became further known for her role as Det. Yelina Salas in CSI: Miami, which she played from 2003 to 2009. At the same time, she starred as Victoria Marston in the telenovela Desire.
Also, she played recurring character Special Agent Bianca LeGarda in The Border. In addition to her work on TV, Milos also acted on the big screen during the 2000s. She had performances in the films The Ladies Man, Double Bang, The Order, and Passionada. In the 2010s, she made one-episode roles in Tatort, The First Family, 1600 Penn, and Criminal Minds: Beyond Borders. Her latest film role was in 2017's Fake News.
The 50-year-old actress stays in shape by eating right. "I don't eat fried food. I try to educate myself as much as possible about diets and what foods to eat and what they do to you. … Not to be obsessive, but it gives me freedom to have choices," said Milos.
"I'm a chocoholic. I love Baci [chocolate kisses] I do eat seeds and almonds every day … avocados and raw oil on grilled vegetables. I eat apple pie Larabars or chocolate-banana ZonePerfect Nutrition Bars. I do have treats. If I want ice cream, I'll have that over cake or cookies. I stay away from wheat. I don't do well with that. I do well on higher-protein diets," she added.