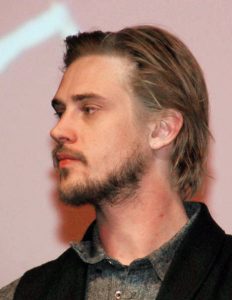 It was in the 2008 feature film Milk that actor Boyd Holbrook got his start. He started a TV career as well, initially making one-episode appearances. After a role in the 2010 TV film Tough Trade, he landed acting parts in the films Higher Ground, The Reunion, and The Magic of Belle Isle. He later played the role of Kyle O'Shea in The Host, as well as appeared as Mykail in 6 episodes of The Big C.
In 2012, he played William "Cap" Hatfield in the miniseries Hatfields & McCoys. He then played Cary James in the TV movie Behind the Candelabra. 2014 was a prolific year for Holbrook. He had performances in such movies as The Skeleton Twins, Little Accidents, Very Good Girls, A Walk Among the Tombstones, and Gone Girl.
In 2015, he co-starred in the film Run All Night as Danny Maguire, starring alongside Liam Neeson and Ed Harris. The following year, he starred in 4 films: The Free World, Jane Got a Gun, Morgan, and Cardboard Boxer. Between 2015 and 2016, he became known for his role as Steve Murphy in the Netflix series Narcos. Afterward, he played the villain Donald Pierce in Logan. Some of his latest film roles are in O.G., Predator, and In the Shadow of the Moon.
The actor made a physical transformation to prepare for his character in Logan. To do this, he upped his workout routine and changed the Boyd Holbrook diet plan. "I started getting 4,000 calories a day and stopped eating carbs and sugar, which is the devil. I also cut out smoking and drinking. I ended up putting on 25 pounds of muscle," said the actor. As for his regular diet, he makes sure he eats lots of proteins. He's also since cut back on dairy and carbs.