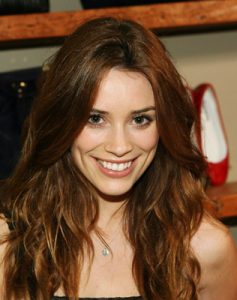 Hollywood star Arielle Vandenberg had her career beginnings in the mid-2000s. Initially, she appeared in the television film She Said/He Said, as well as played a one-episode minor part in CSI: Crime Scene Investigation. Her first credited role was in an episode of CSI: Miami. Shortly after in 2007, she made her big-screen debut in the film Epic Movie.
Her first notable role on the small screen was as Lisa Lawson in the comedy-drama series Greek, appearing in a total of 4 episodes. She also guest-starred in How I Met Your Mother, Bones, and Numbers. In 2009 alone, she had roles in three films: Spring Breakdown, The Ugly Truth, and Dark Moon Rising. At the same time, she starred as London Sheraton in the short-lived TBS sitcom Meet the Browns. After this, she had one-episode roles in Friends with Benefits, Go On, and For Better or Worse.
Her next role was in the miniseries Date Night Fails. She later appeared in the TV special 2015 MTV Video Music Awards, after which she guest-starred in @midnight. More recently, she had performances in independent films, such as Nerve and Dog Days. She also starred in some direct-to-video films. She's currently best known as the host of the dating reality show Love Island USA. Vandenberg has had other appearances in the television programs Good Mythical Morning and Ryan Hansen Solves Crimes on Television.
Arielle Vandenberg keeps her body fit and healthy by sticking to a healthy diet plan. While she doesn't impose strict diet rules, the actress ensures her body is nourished with clean, whole foods every day. She has tried several diets including being a vegetarian, however, she considers being pescatarian the type of diet that works best for her body.
"I'm very conscious about what I put into my body so I try to eat mostly organic, but my (almost) daily go to is still scrambled eggs! But usually in an almond flour or cassava flour tortilla," she said talking about how she starts her day. She also loves fried rice and baked beans for breakfast.