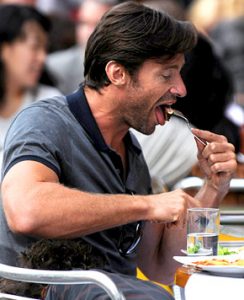 Aussie actor Hugh Jackman has been in the acting industry since time immemorial, but he's best known for his role as Wolverine in X-Men films and other spin-offs. He starred as Wolverine for years in X-Men, X2, X-Men: The Last Stand, X-Men Origins: Wolverine, The Wolverine, and X-Men: Days of Future Past. Outside the X-Men films, he also starred in the romantic comedy Kate & Leopold, Van Helsing, The Prestige, Australia, Real Steel, and Les Misérables. For his performance in Les Misérables, he received his first Academy Award nomination for Best Actor while winning the Golden Globe. His most recent work on the big screen includes Chappie, Pan, and Eddie the Eagle.
The X-Men star has been known to many for his bulky structure. Being Wolverine for many years, this isn't really surprising. Amazing thing is, even though he's nearing his 50s, the actor stays in great shape and form. Something that can be credited to his discipline and focus when it comes to his workout sessions and diet plan. Being active on the silver screen, the star does not go complacent and has made physical training part of his lifestyle. Same goes to clean and healthy eating. Interestingly, the actor said that his diet to maintain his Wolverine form is nothing special.
He doesn't follow any special techniques and just tries his best to eat nutritious food more naturally. In an interview, he said that he normally consumes about 4,000 calories a day, while when shooting as Wolverine, he increases his calorie intake to 5,000. In an interview, he said he implements a "16-8" dietary routine, which means that he fasts for 16 hours and eats during an eight-hour period. Thus, he eats at 10 AM and 6 PM. This habit is rooted from the fact that it is not only essential to find out what one eats, but when he/she eats. For his Wolverine diet, he usually has chicken breast, but steamed and no salt, and steamed spinach.