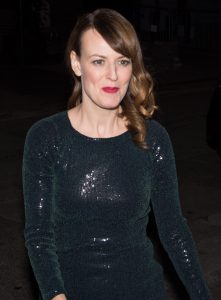 Hollywood star Rosemarie DeWitt debuted in 2001. Her first acting work was in an episode of Law & Order: Special Victims Unit. She later had guest appearances on Sex and the City, Rescue Me, and Love Monkey. Meanwhile, she made her cinematic debut in the film Fresh Cut Grass. Her first credited role on the big screen was in 2005's The Great New Wonderful. At the same time, she had a role in the movie Cinderella Man as Sara Wilson. From 2006 to 2007, she starred as Emily Lehman on the Fox series Standoff.
She later played recurring character Midge Daniels on AMC's Mad Men. Simultaneously, she starred as Charmaine Craine on the Showtime series United States of Tara. In 2008, she also gained stardom for playing Rachel in the drama film Rachel Getting Married. In the 2010s, she starred in the movies The Company Men, A Little Bit of Heaven, Your Sister's Sister, The Odd Life of Timothy Green, The Watch, and Promised Land, among others. More recently, she had notable performances in Poltergeist, La La Land, Sweet Virginia, Arizona, and Richard Says Goodbye. Also from 2016 to 2017, she starred as Rose Brady on the Amazon series The Last Tycoon.
The 47-year-old actress maintains her overall health and fitness as she abides by a clean diet plan. Most of the time, she focuses on eating unprocessed and well-rounded foods. She does so not only for keeping her body in top shape but also for feeling great from the inside out. As an actress, her diet can also be affected by the roles she plays. Sometimes, she needs to lose more weight and there are also instances when she's required to gain some pounds. For her role on Mad Men, however, the actress wasn't required to do any dieting. She was able to keep her figure the way it was. "I felt I could eat as many M&Ms as I wanted," she said.