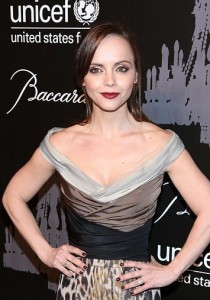 American actress Christina Ricci started acting as a little girl through commercials. Then at age 10, she made her movie debut in Mermaids in 1990, though it was her performance in The Addams Family the following year that gained her stardom as a child star. Further prominence came after starring in the movie Casper in 1995. After a few years, she began playing more adult-oriented roles, beginning with The Ice Storm in 1997. Before the decade ends, she starred opposite Johnny Depp in Sleepy Hollow released in 1999. She continued acting in the 2000s and was lauded for her performances in Monster in 2003 and Black Snake Moan in 2006. She also starred alongside Liam Neeson in After.Life in 2009. Subsequently, she was cast for a main role on the television series Pan Am, although the show was cancelled right away. She has recently portrayed the title character on the limited series The Lizzie Borden Chronicles.
The 36-year-old actress has struggled with her body image since she was young. Practically growing up in the limelight, this is somehow understandable. With this, she has admitted to practicing crash diets to lose weight. When a role for a film also calls for her to look skinnier, she relies to crash diets for faster results. For Black Snake Moan, it was reported that the actress only ate foods loaded with sugar and nothing else. It's because her character in the movie had to look exactly like that.
In addition, Christina also went to great lengths of only eating corndog and cherry limeade once a day for her character in the said movie. Sometimes she would eat from fast food to substitute for the corndog. Of course, she got her desired result because her character in the film looked very unhealthy. But for Pan Am, however, the actress took a healthier route. Wanting to look more vibrant and lean, she opted for more nutritious foods like lean protein, veggies, and fruits.