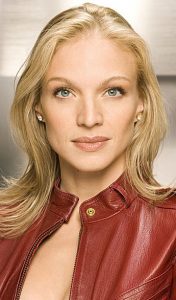 It was in 1995 that actress Kristin Lehman started acting professionally. She debuted on the show The Commish. At the same time, she appeared in 4 episodes of the series Forever Knight. The following year, she made her big screen debut in the film Alaska. The rest of the '90s saw her perform in the feature films Bleeders and Dog Park. She also appeared as Det. Jordan McGuire on Kung Fu: The Legend Continues, Kristin Adams on Poltergeist: The Legacy, and Dr. Sidney MacMillan on Strange World. She continued her career in the 2000s, during which she landed more roles in Hollywood.
She played recurring character Avery Swanson on Felicity and Dr. Lily Reddicker on Judging Amy. She later appeared as Lee May Bristol on Century City, Francesca on G-Spot, and Ellen on Tilt. From 2005 to 2006, she played Det. Danielle Carter on Killer Instinct. Following this, she starred as Corinna Wiles on the short-lived series Drive. In the 2010s, she became further known for starring as Gwen Eaton on AMC's The Killing. She later played the lead Detective Angie Flynn on the Canadian series Motive. More recently, she starred as Theresa Archer on Rogue, Marilyn McGrath-Dufresne on Ghost Wars, and Miriam Bancroft on Altered Carbon. In the movies, her latest work was as Det. Higgins in 2013's The Loft.
The actress mainly stays in shape by following a clean diet. With her active career, she doesn't really have much time to work out on a regular basis. But it doesn't mean that she doesn't exercise. She still does — in her own ways such as walking when doing errands and using the stairs instead of the elevator. She tries her best to stay active as much as she could. Plus, her work as an actress also keeps her on-the-go so that alone guarantees lots of physical activity from her.