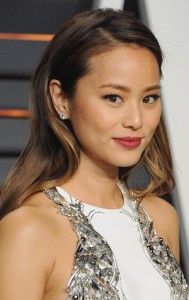 American actress Jamie Chung is a second generation Korean American who was born and raised in San Francisco. She began her show business career as a cast member of the reality series The Real World: San Diego, which aired on MTV. This gained her recognition. After her stint on reality television, she proceeded to acting on television shows and got her first recurring role in a soap opera. Her first lead role was in the miniseries Samurai Girl. Turning onto the big screen, she's had roles in Dragonball Evolution, Sorority Row, and Grown Ups. She eventually secured starring roles in Sucker Punch, The Hangover Part II, Premium Rush, The Man with the Iron Fists, Eden, The Hangover Part III, and Sin City: A Dame to Kill For. She's also known by TV viewers as Mulan in Once Upon a Time.
The 32-year-old actress stands at 5'6 and with her slender figure, she surely is a head-turner. The actress is noted for her discipline when it comes to maintaining her slim physique and her overall well-being as well. Aside from engaging in regular exercises, she practices a healthy, balanced diet. She mostly eats lean protein, green and leafy vegetables, nuts, and seeds to get sufficient nutrients for her body. Because of the time and energy she spends on working out, she focuses on eating lean protein.
She usually receives lean protein from eating yogurt, egg whites, grilled chicken, fish, and meat regularly. Since she was burning more calories courtesy of her somehow rigorous training, there was a massive change in her diet. This resulted to her caloric consumption increasing, in which her body was craving for more carbs. Of course, she has to be extra careful when it comes to consuming carbs, so she only assigned one cheat day per week so she could indulge herself in foods she rarely eats but are tasty. These cravings include burgers, pasta, and pizza.