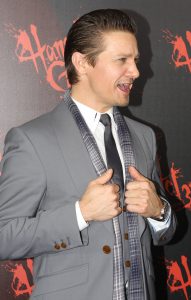 American actor Jeremy Renner is now a big Hollywood star, mostly performing in action and adventure thrillers. Prior to his breakthrough, he was heavily involved with independent cinema with stand-out performances in Dahmer and Neo Ned. Over the years, he moved to mainstream films with supporting roles in S.W.A.T. and 28 Weeks Later. It was not until The Hurt Locker in 2008 when Jeremy came to wider prominence, which was also remarkable because he received his first Academy Award nomination for Best Actor. His supporting part in The Town was also praised by critics, for which he even received an Academy Award nomination for Best Supporting Actor. Presently, he's best known for playing Hawkeye in Thor, The Avengers, Avengers: Age of Ultron, and Captain America: Civil War. In addition, he has starred in other box office hits, like Mission: Impossible – Ghost Protocol, The Bourne Legacy, Mission: Impossible – Rogue Nation.
The 45-year-old actor is a now a huge name in the industry, only gaining significant success in the late 2000s. Unlike other actors, he's not that bulky but he is still efficient in playing action-oriented roles since it is also apparent that he's healthy and fit. He sure is muscular but his masculinity is something he does not really showcase in his films, unlike other male stars. To achieve his lean bod, Jeremy engages in regular workout sessions, where his self-imposed focus and discipline comes to play, helping him achieve his goals.
Of course, it is also given that the actor is careful when it comes to his eating habits. Being in the crucial age of 40s, he knows that it's the time for him to be extra careful with his consumption. Basically, he opts eating simple, clean, and natural food. This includes lean meat, fresh fruits and vegetables. For breakfast, he typically has an omelet cooked in coconut oil, avocado, and orange. For lunch, he eats grilled chicken breast, sweet potato, spinach and protein shake. For dinner, he has turkey burger, salad, broccoli and salad. In between, he eats fruits and nuts for snacks.