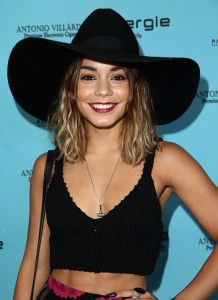 27-year-old former Disney star Vanessa Hudgens began her film career in 2003. It took her a few more years before rising to fame as the female lead in the High School films. The film series was popular enough to make Vanessa a teen icon. Her relationship with her co-star Zac Efron led them to become tabloid favorites. Showcasing her singing in the said movies, she also became recognized as a recording artist. She's also known for other performances on the big screen such as in Bandslam, Beastly, Sucker Punch, Journey 2: The Mysterious Island, and received attention for her more adult image in Spring Breakers and Machete Kills.
The petite actress is also known for her thin body frame, which only suits her short stature. Even though her slender figure is somehow her natural body type, Vanessa is not complacent and still spends time to work out to not only maintain her slim body but also become in her healthiest condition. When it comes to her eating habits, the actress-singer is not the easy-go-lucky type as she practices caution in terms of choosing what she eats. Interestingly, she has five meals per day, breaking the customary 3-meal-per-day practice.
Despite this, Vanessa takes only small meals so she really is cautious when it comes to the portion size of her food. Before, she was fond of eating pizzas and chocolates but she has since removed them from her diet since she's aware that these aren't good for her. For breakfast, she usually has egg white omelets with fruits, oatmeal and almonds. For lunch, she eats spinach salad along with her favorite grilled chicken. Dinner, on the other hand, consists of salad and salmon garnished with Himalayan tea salt, almonds and few slices of brown bread. She mostly snacks on healthy stuff like fruits, juices, and yogurt.