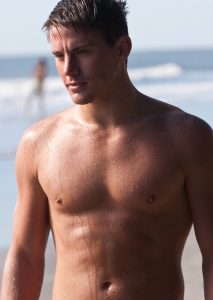 Channing Tatum is an American actor who first worked as a stripper prior to working in Hollywood. He got his breakthrough as an actor when he starred in Step Up, his dancing skills apparently helped him secure the male lead. This surely helped him find other opportunities in the acting industry. After more roles on the big screen, he attained further prominence when he starred in the action-comedy 21 Jump Street, which was a commercial success. He then went for dramatic roles, starring in the romantic drama The Vow. As his career becomes more prolific, his popularity increases, especially after the release of the movie Magic Mike, the story of which was based on his early life as a stripper. The movie spawned a sequel released recently. He also reprised his starring role in 22 Jump Street. He then received critical praise for his performance in Foxcatcher.
Channing has long been recognized for his hot body ever since he started out as an actor. Being charming and multi-talented, it didn't take long for him to be widely popular, especially among women. Clearly, Channing engages himself in workout sessions, which helps him maintain his muscular structure and form. He is focused, self-driven, and disciplined, thus, achieving a great body. These qualities are also what brought him to his current fame. But aside from his workout routine, Channing also takes care of himself by eating clean and healthy. He's actually concerned with what goes into his body as he believes that he becomes what he eats.
Eating right is also something that's crucial especially for his role in Magic Mike where he bared much skin and proved once again how great dancer he is. But his figure in that film is something that he was able to achieve by implementing discipline in his dietary regimen. For one, he followed a 2-hour interval between meals. His diet during this time was protein-heavy meals that also included vegetable smoothies. Apparently, his eating habits, although strict, worked well because as everybody knows, he looked amazing in Magic Mike!