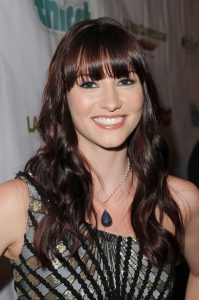 It was in 1996 that Hollywood actress Chyler Leigh had her career start. She made her debut as co-host in the show Hall Pass. She then made her first movie appearance in Kickboxing Academy. Her first starring role on television was as Jamie Martin in the short-lived series Safe Harbor. She next appeared as Frankie in three episodes of 7th Heaven. In the 2000s, she became widely known for her role as Janey Briggs in the movie Not Another Teen Movie.
She next starred as June Tuesday in the show That '80s Show. She also played Sarah Mickle in the series Girls Club. She later joined the main cast of the show Reunion, though it was also short-lived. Her biggest success on the small screen was as Dr. Lexie Grey in Grey's Anatomy. After her stint on the show, she starred in the short-lived series Taxi Brooklyn as Detective Caitlyn 'Cat' Sullivan. Since 2015, she stars as Alexandra "Alex" Danvers in Supergirl.
The 35-year-old actress stays in shape by keeping herself physically all the time. But, instead of going to the gym, she exercises in a different way. She explained: "I have exercise-induced asthma. So I keep my energy level up chasing two children around. I stay as active as possible without going to the gym." Despite her limitation, this doesn't stop her from being active and healthy. She tries her best to move around as much as possible.
She also exercises by joining her husband go jogging every now and then. She shared: "He has these running epiphanies. He'll go out for a run and come back and say, 'Look, I said this and I'm sorry,' or 'I totally figured this out.' And I'm like, 'Go again!' I'd love to run more just to get that good, clear thinking time." With her regular stint in Supergirl, she's also naturally exercised by just being in the show. Working keeps her active and being a mother also makes sure she's always up and doing something.