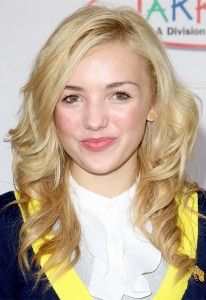 American actress and model Peyton List started acting when she was only four, first on television with an uncredited role. She eventually moved into the big screen with another uncredited part in Spider-Man 2, though she mostly worked on the small screen during this time. She first got noticed in 2008 when she played the younger version of Katherine Heigl's character in the romantic comedy 27 Dresses. From there, she got more acting roles on film such as in The Sorcerer's Apprentice and Bereavement, both released in 2010. It was, however, on television that she got mainstream attention for her starring role in the Disney sitcom Jessie, a character she played from 2011 to 2015. During the same period, she also became known for her role in the 2011 movie Diary of a Wimpy Kid: Rodrick Rules, which she reprised in Diary of a Wimpy Kid: Dog Days in 2012. After Jessie, she continued to work on both the big and the small screen. She will star in the 2016 upcoming feature The Outskirts.
Peyton is only turning 18 this year, so she's pretty much young to worry about her body. Just like other girls her age, she mostly indulges herself in whatever she wants. It's only fitting to say that now is the time for her to eat whatever she craves for as this is part of being young. Standing at 5'6, the young actress, however, is very slim. Maybe her fast metabolism is also part of her being young, which is good for her.
Surprisingly, the former Jessie star is not all that careless when it comes to her eating habits. While she likes to dig in and eat delicious foods, she also knows that she has to balance it out with some nutritious foods. Being an actress, she knows she has to be physically fit to further enjoy her work. Junk foods usually make one weaker and feeling less energetic, and Peyton knows this. Thus, she makes sure she incorporates healthy foods into her meals, such as sardines which is rich in proteins. She's also fond of beans as her source of anti-oxidants and black tea to detoxify her system. For snack, she mostly has yogurt to fill her up.