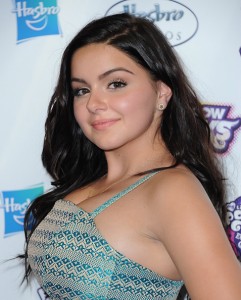 American young actress Ariel Winter is now a television staple courtesy of her starring role in the award-winning comedy series Modern Family. Starting her career at a young age, she made her screen debut in the mid 2000s as a child actress. She was prolific as one, appearing in several films and television shows throughout the decade. At the same time, she also started working as a voice actress. Her most notable roles in the 2000s were in the movies One Missed Call and Speed Racer. It was, however, in 2009 that she achieved mainstream prominence after landing a role in Modern Family, which still runs on television up to now. Continuing her work as a voice actress, she's also known for voicing Sofia in the children's animated show Sofia the First since 2013. Her most recent film was in the 2015 drama feature Safelight.
The 18-year-old star is one of the young actresses in Hollywood who actively stand up against body shaming. It is known that she's not as slim as other young actresses but Ariel is confident of the way she looks and considers herself healthy and fit, though she is more health conscious to properly manage her weight. Aside from practicing an active lifestyle through her busy work schedule and exercises, she makes sure she only eats nutritious foods to not only lose weight, but also become healthier.
Basically, she practices portion control in her every meal. She doesn't indulge in the amounts of food that her body wants because she knows that it's not what she needs. She makes sure she only feeds herself sufficient amount with the right vitamins and minerals. She only consumes complex carbohydrates and fiber from whole-grain cereal and wild rice. For her source of proteins, she has chicken and fish mostly for lunch or dinner. Then to cleanse her body, she drinks almost three liters of water every day. She also believes in the health benefits of garlic.