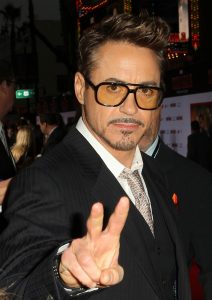 Hollywood star Robert Downey Jr. got his start at an early age, making his debut in the 1970 movie Pound. In the 1980s, he gained recognition for his roles in the films Weird Science and Less Than Zero. In 1992, he portrayed Charlie Chaplin in the movie Chaplin. His performance here gained him an Academy Award nomination for Best Actor. After some legal troubles, he returned to acting becoming known for his role as Larry Paul in the televisions series Ally McBeal. He later starred in the films Kiss Kiss Bang Bang and Zodiac.
International success came after landing the role of Tony Stark / Iron Man in the superhero movie Iron Man. He has since reprised his role in the sequels – Iron Man 2 and Iron Man 3. He has also reprised the role in other films in the Marvel Cinematic Universe, such as in The Avengers films, Captain America: Civil War, and Spider-Man: Homecoming. He also played Sherlock Holmes in the movie Sherlock Holmes and its sequel Sherlock Holmes: A Game of Shadows.
Playing a superhero in the world of Marvel, the actor had to undergo intense physical training to improve his physique. His trainer said: "We had to do some pretty drastic stuff to get him up near the 170-plus pounds of Iron Man." The challenge was that Downey was already tired from the diet and training he did for Sherlock Holmes, which mostly consisted of the conventional workout routine. So, for Iron Man, the actor wanted his regimen to be a bit spiced up to help with his motivation.
"If I have to get underneath a bench press or [do] a squat, I'm going to shoot myself. I just don't have the motivation," the actor was noted saying. So, his trainer designed a different approach. Aside from a high-protein diet, the actor trained by doing yoga and Wing Chun Kung Fu. He also worked with his trainer 3-4 days per week for around 90 minutes each.