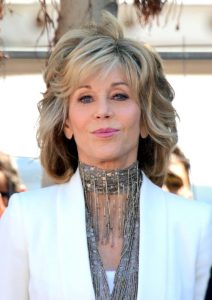 Veteran actress Jane Fonda first performed on Broadway. In 1960, she made her cinematic debut in the film Tall Story. She later received substantial attention for her roles in the films Period of Adjustment, Sunday in New York, Cat Ballou, and Barefoot in the Park. Her role in the 1969 film They Shoot Horses, Don't They? got her an Academy Award nomination for the first time. In the '70s, she won the Best Actress Award at the Oscars for her performances in the movies Klute and Coming Home.
During this period, she also built a more successful career with starring roles in Fun with Dick and Jane, California Suite, and Julia, among others. In the following decade, she received acclaim for her performance in the TV film The Dollmaker. It was also during this period that she released her first exercise video, Jane Fonda's Workout. It became the best-selling VHS of all time. She took a break from her career in the 1990s but not before starring alongside Robert De Niro in the film Stanley & Iris.
She returned to acting in the 2000s with the romantic comedy film Monster-in-Law. This was followed by another performance in Georgie Rule. In the 2010s, she became more active with roles in The Butler, This Is Where I Leave You, Youth, Our Souls at Night, and Book Club. Her role as Leona Lansing in the HBO series The Newsroom also earned her Primetime Emmy nominations. As of 2015, she co-stars as Grace Hanson in the Netflix comedy series Grace and Frankie.
Already in her 80s, the award-winning actress sure knows how to stay in shape. Throughout her career, Jane Fonda has maintained a healthy body through a clean diet plan and exercise. "I try not to have sugars. I try to eat fresh foods. I try to eat something dark green and dark purple, and a variety of colours, every day. I don't go to bed without having something dark green, dark purple, red, orange, or yellow," said the actress.
She also keeps it healthy even when snacking. "Keep healthy snacks on hand for between meals – things such as fruit or low-fat cottage cheese or string cheese. Red grapes go well with cheese," Fonda shared.