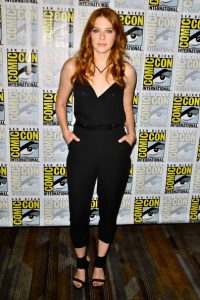 It was in 1999 that Canadian beauty Rachelle Lefevre started her acting journey. Her debut was a starring role on the TV show Big Wolf on Campus. Her first movie role was in Stardom. She later had notable roles in the shows Undressed and Life on a Stick. She then became known for starring in the series What About Brian. She later appeared as Melinda in 5 episodes Swingtown.
Soon, she had her breakthrough for her role as Victoria Sutherland in Twilight and The Twilight Saga: New Moon. She earned Teen Choice nominations for her role in the films. Subsequently, she had roles in the films The Caller, White House Down, Pawn Shop Chronicles, Reclaim, and Edge of Winter. She also became known for starring in the shows Off the Map, A Gifted Man, and most notably in Under the Dome.
The 39-year-old actress stays in shape by sticking to a healthy lifestyle. She eats right and she also workouts on a regular basis. She admits that even though she has insecurities about her looks, she manages to overcome them. What's important is that she's taking care of her body. She said: "You get to a certain age and it's almost unavoidable not to list off your flaws. However, I feel really blessed with the number of people in my life who accept me just as I am."
She further explained: "I struggle, like any woman, with body image. I sometimes think if I was thinner my career would be different. Still, I've never aspired for that emaciated look. When I look at the bodies of say Jennifer Lawrence or Jessica Biel they look like they work out and they eat. That's ideal to me." Hence, the actress works out not only to maintain a healthy weight but to also feel great inside and out.