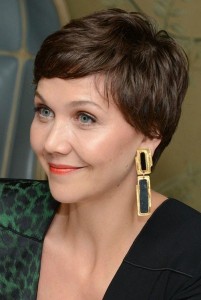 American actress Maggie Gyllenhaal started acting at an early age, her parents being from the acting industry themselves. Her father is a director while her mother is a screenwriter. Along with her younger brother, Jake, they starred in the cult film Donnie Darko, which was released in 2001, though her acting debut was in the early 1990s. Afterwards, she acted in a couple of well-known movies, but it was her performance in Secretary in 2002 that earned her critical acclaim, for which she received a Golden Globe nomination for Best Actress. She subsequently played starring roles in Mona Lisa Smile, Stranger than Fiction, and once again was nominated for a Golden Globe for her role in Sherrybaby. She went on to replace Katie Holmes as the female lead in The Dark Knight released in 2008. The following year, she got her first Oscar nomination for the supporting actress category for her performance in Crazy Heart. Her most recent movies are Frank and River of Fundament, both released in 2014. It was also that same year when she starred in the miniseries The Honourable Woman, which won her a Golden Globe for Best Actress.
The 38-year-old actress has always been fond of healthy eating. Now that she's in her late 30s and is a mother to two girls, she makes sure that she practices nutritious eating habits to not only look good but to also feel good from the inside. For one, Maggie doesn't believe in not eating to lose weight. She doesn't think that not eating makes one skinny. She believes in observing a balanced diet and practicing portion control to maintain her slender physique, which she has excellently managed despite giving birth twice.
Since she knows that it's also crucial for her age to be careful in the foods she eats, she mostly opts the ones that can deliver sufficient nutrients to her body. Also, she doesn't allow herself to skip meals. She said she always remember to take a break and eat, no matter how busy she is. When it comes to her favorites, she said she likes lentils very much. They're healthy and is rich in proteins so they fill her up. She makes three cups of lentils at a time with feta cheese and vinaigrette and she can bring it on the go as lentil salad. Plus, she always has latte with non-fat milk in the morning to boost her morning routine.