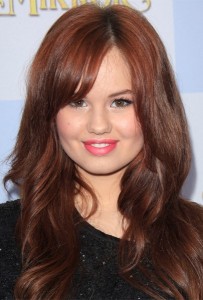 American actress Debby Ryan started her acting journey as she was entering adolescence on the children's show Barney and Friends. A few years later, she got her breakthrough on television after becoming part of the main cast of the Disney show The Suite Life on Deck. She played her role as Bailey from 2008 to 2011, earning her recognition from teenage viewers. It was also in 2008 that she made her first movie appearance in The Longshots. After more roles on a couple of TV shows, TV movies, and a few feature films, she secured the lead role in another Disney show, Jessie, which ran from 2011 to 2015. Simultaneously, she appeared on other TV shows and acted in the movie Muppets Most Wanted released in 2014, as well as in a few other made-for-television movies. She has also ventured into singing and recording, her first single "We Ended Right" was released in 2011.
The 22-year-old actress is very much notable for her beautiful face and sweet singing voice. Apart from that, she's also a well-known television star courtesy of the recently concluded Jessie. Standing at 5'5, the actress is also particularly slim, which definitely makes her look more appealing to female and male fans alike. Naturally, Debby is still young so she does not have any particular diet. As of now, there's no need to. She has fast metabolism and she's still naturally strong and fit. She enjoys being young by eating whatever she wants, something that young people normally do.
However, it can also be noted that the young star doesn't allow herself to only consume unhealthy foods. Despite her freedom to choose whatever she wants, she doesn't abuse it because she knows her body has limits and snacking on unhealthy foods would eventually take its toll. With this, she makes sure she incorporate some healthy food items into her meals. Some of these are kelps and mushroom, manchego cheese, whole grain cereal, and poultry products for proteins. Some of her cravings include citrus toffees.