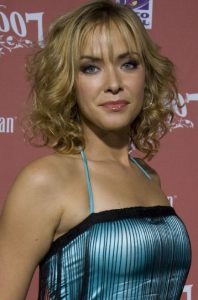 Hollywood actress Kristanna Loken had her career beginnings in the 1990s. During her early years, she appeared in such television shows as As the World Turns and Law & Order. Her first notable role was as Sable O'Brien in the series Unhappily Ever After. She next played recurring character Janine Kelly in Pensacola: Wings of Gold. Her first regular role was as Taja in Mortal Kombat: Conquest.
In the 2000s, she starred in the short-lived series D.C. and played recurring role Lisa Walensky in Philly. She then gained mainstream fame for her portrayal of T-X in Terminator 3: Rise of the Machines. She next starred in the movies BloodRayne and In the Name of the King: A Dungeon Siege Tale. She also played the lead in the short-lived series Painkiller Jane and appeared as Paige Sobel in The L Word. In the 2010s, she played Rebecca Lang in Burn Notice. She also starred in the movies S.W.A.T.: Firefight, Bounty Killer, Black Rose, and Mercenaries.
The 38-year-old actress stays in shape by following a healthy diet plan. In general, she stays away from processed and junk foods and focuses on nutritious, well-rounded meals. This not only keeps her slim but strong and healthy as well. For her role as the murderous robot in Terminator 3: Rise of the Machines, the actress had to make changes in her diet in order to lose weight and appear stronger.
During this time, she followed a low-calorie and a high-protein diet. She avoided carbs at all times and concentrated on getting protein and fiber. Up to this day, Kristanna still practices a clean diet. She practices moderation when it comes to her eating habits. She still eats a lot of protein-rich foods and incorporates fruits and veggies into all her meals. Even her snacks are healthy, which include nuts, fruits, and yogurts. She may indulge in her cravings once in a while but she always applies portion control.