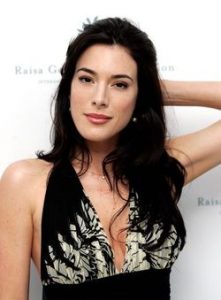 English actress Jaime Murray had her career beginnings in the early 2000s. During her early years, she guest-starred on such television shows as The Bill and Casualty. Her first starring role on the small screen was as Stacie Monroe in Hustle. She next starred in the movies The Deaths of Ian Stone, Botched, and Devil's Playground. In 2007, she played the role of Lila West in 10 episodes of Dexter. She next joined the main cast of the short-lived series Valentine as Grace Valentine/Aphrodite. In the 2010s, she starred as Helena "H.G." Wells in the TV show Warehouse 13. She next played Gaia in the miniseries Spartacus: Gods of the Arena. After this, she starred as Olivia Charles in Ringer. She became further known on television for her role as Stahma Tarr in Defiance.
The 41-year-old actress stays in shape by following a healthy diet. In an interview, she got candid about her eating habits. She said: "I used to have a sweet tooth, but as I've matured my taste buds have changed. I would have thought bacon chocolate was vile before, but now I love a savoury crunch in my dessert." She also added: "I love to read up on nutrition. I wouldn't feel satisfied with vegetarian food, but I try to follow an alkaline diet. This chocolate-flavoured drink has wheatgrass to boost my energy levels."
The actress also revealed that no matter how busy she gets, she never skips meals. She explained: "I never skip meals because I hate feeling hungry. Sticking to protein-rich, low-carb options keeps me going without resorting to junk food." She also likes having "Goji berries, raspberries, chia seeds in almond milk, coffee" for breakfast. During Sundays, she continues her healthy eating habits, "I eat out a lot and visit places that have simple dishes using local organic ingredients. In my cooking, I experiment with new flavours," she said.