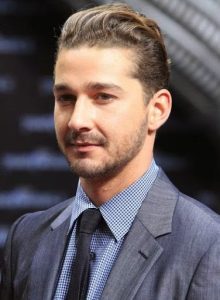 Shia LaBeouf is one of Hollywood's well-known actors. Starting his career during his teens, his breakthrough was the titular character on the Disney show Even Stevens. Soon, he started his cinematic career with his debut in Holes. He went on to star in the box office hits Disturbia and Surf's Up. It was however his role as Sam Witwicky in the movie Transformers that brought him to international prominence. He also reprised said role in the sequels Transformers: Revenge of the Fallen and Transformers: Dark of the Moon, both of which are also box office hits. Further success came as he starred in the adventure film Indiana Jones and the Kingdom of the Crystal Skull. In the 2010s, he had notable roles in the feature films Wall Street: Money Never Sleeps, Lawless, The Company You Keep, Nymphomaniac and Fury.
Being an actor, Shia is no stranger to transforming his appearance for the sake of his characters in movies. For his role in Lawless, the actor had to put on 40 pounds in order to look heavier. This was reportedly done to match up to his on-screen brother Tom Hardy. About the experience, he said: "I gained about 40lbs, just eating, your whole lifestyle becomes something else. Every three hours you consume, food becomes vitamins, it's about necessity, which is gorging, it's horrible."
He added: "It was protein shakes really, a lot of chicken and eggs. At night, you wake up every three hours, take the shake and wake up. It's monotonous. You only have a certain amount of time, I had a month, two months to get there." The actor revealed he didn't like having a more bulked up appearance. Normally though, the actor still sticks to a healthy diet by focusing on eating nutritious foods. This typically includes lean protein, whole grains, foods and veggies.