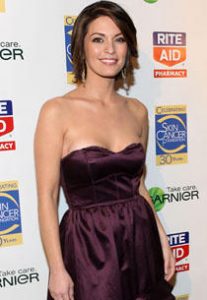 Film and television star Alana de la Garza debuted in 1999, appearing in an episode of Mortal Kombat: Conquest. Her first recurring character was as Rosa Santos on the soap opera All My Children. After guest roles on JAG, Las Vegas, and Two and a Half Men, de la Garza got her first starring part as Maria Serrano on the TV series The Mountain. She also made her first movie role in 2002's Bending All the Rules.
She became further known for her role as Marisol Delko on the CBS series CSI: Miami. Simultaneously, she played Jessie Gilmore on The Book of Daniel, as well as appeared in the movie Mr. Fix It. She became a household name courtesy of her role as ADA Connie Rubirosa on Law & Order, which she played from 2006 to 2010. Afterward, she reprised her role on the spin-off Law & Order: LA.
In the 2010s, she first guest-starred on NCIS: Los Angeles and Single Ladies. She next starred as Dr. Lena Solis on the NBC drama series Do No Harm. From 2014 to 2015, she starred as Jo Martinez on the ABC series Forever. Continuing her TV career, she played SSA Clara Seger on Criminal Minds: Beyond Borders. She'll star on the upcoming CBS series FBI: Most Wanted.
Apart from being conscious of the foods she eats, the television star also stays in shape by exercising. With her crazy schedule, it's hard to practice consistency but she tries her best. She runs and performs other kinds of cardio, she does yoga, Pilates, and engages in other activities like hiking. Her on-the-go lifestyle also keeps her physically active. Every time she misses an opportunity to workout due to time constraints, she makes it up by doing the most basic of things, such as taking the stairs instead of using the elevator and walking a lot.