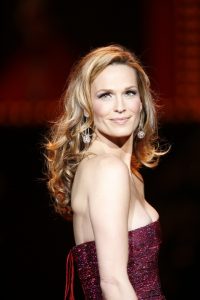 American actress and model Molly Sims first gained notice after being featured in Sports Illustrated Swimsuit Issue. She later started acting in the 2000s. She was first the host of the MTV show House of Style. Her first starring role was as Delinda Deline in the TV series Las Vegas. In 2004, she made her cinematic debut in Starsky & Hutch. She next starred in the movie The Benchwarmers.
She later reprised her role as Delinda Deline in the show Crossing Jordan. After this, she had supporting roles in the films Yes Man, The Pink Panther 2, and Fired Up. In the 2010s, she appeared as herself in the reality shows The Rachel Zoe Project and Project Accessory. She's also made notable appearances in the TV shows Royal Pains, Men at Work, and The Carrie Diaries.
The 45-year-old actress apparently has a slender and toned figure. But, the actress-model admits that her figure doesn't come out naturally. She acknowledges the part where she needed to work hard in order to achieve a fit body. She said: "This does not come naturally. I have to work out 60 to 90 minutes at least five days a week." She also wasn't always consistent with her workout routine.
Things change when she turned 38 and she decided to apply more discipline in order to gain more notable results. She said: "I wanted to be consistent with my exercise, so I committed to working out for 30 days in a row, no matter what." She added: "For an hour every day, I did something. I was on the elliptical or the treadmill, and if someone asked me to go to a class—whether it was spinning, boxing, yoga, you name it—I went. By the end of the month, I felt so good, I just kept going. I didn't want to lose my momentum."