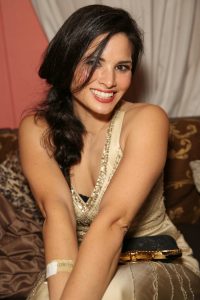 Hollywood actress Katrina Law had her beginnings in the early 2000s. While starting, she had guest appearances on such TV shows as Third Watch and Reba. She next appeared in the made-for-television film 44 Minutes: The North Hollywood Shoot-Out. She next starred in the web series The Rookie: CTU. In 2010, she played recurring character Mira in Spartacus: Blood and Sand. She also starred in the web series The Resistance. She went on to reprise her role as Mira, this time as a main character in Spartacus: Vengeance. More recently, she became known for her portrayal of Nyssa al Ghul in Arrow. Last year, she starred as Detective Rebecca Lee in the short-lived CBS series Training Day. In addition, she's also starred in the movies Checkmate and Darkness Rising.
The 32-year-old actress can be typically seen playing tough female characters on television. For this reason, she makes sure that she undergoes physical training alongside proper diet plan in order to achieve a body form that is slender yet lean and strong. She does this by applying discipline to her daily eating regimen. Most of the time, she avoids processed and junk foods. She cuts down her consumption of carbs and steers clear of sugar. She focuses on eating foods rich in protein and fiber. Simply put, she opts for nutritious foods rather than eating empty calories.
In the morning, she loves to have an egg or a bowl of whole grain oats or cereals. She always incorporates fruits and veggies into her meals so she likes having some blueberries or strawberries in her breakfast, too. She also likes drinking fruit shakes, which she makes at home to make sure that they don't have added sugars. For lunch, she'd like to consume proteins so she goes for some chicken or fish with salad. Sometimes, she has rice, too. For dinner, she goes for something light like a soup and a sandwich, or a bowl of pasta.