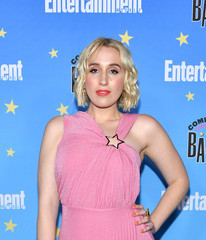 Harley Quinn Smith:
$1 million
Harley Quinn Smith is an American actress. She's also a musician. Filmmaker Kevin Smith is her father. Her first acting role was in her father's comedy film, Jay and Silent Bob Strike Back, released in 2001. She later appeared as an extra in her father's other films, including Jersey Girl and Clerks II.
In the 2010s, she returned to acting as an adult, appearing with a minor role in 2014's Tusk. She also appeared as herself in the show Comic Book Men. Her first starring role in the movies was as Colleen McKenzie in 2016's Yoga Hosers. She went on to have performances in such films as All These Small Moments, Once Upon a Time in Hollywood, and Madness in the Method.
Smith also starred as Millennium "Milly" Faulken in 2019's Jay and Silent Bob Reboot. At the same time, the actress landed guest roles on TV as well. She had one-episode roles in Supergirl and Halloween Wars. Her first regular role on the small screen is as Mallory Higgins in Freeform's Cruel Summer. This year, she also had a voice role in Masters of the Universe: Revelation.
While Harley Quinn Smith's father is already a prolific filmmaker with decades of experience in Hollywood, the actress managed to launch an acting career and earn money on her own. Her current net wort of $1 million is attributed to her work on film, including Yoga Hoser, which also became her first starring role in the movies. Joining the main cast of Cruel Summer also proved to be substantial in boosting her net worth too.