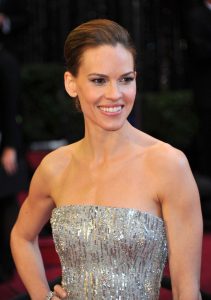 Acclaimed international actress Hilary Swank made her debut in Buffy the Vampire Slayer and later on garnered notice for her role in the The Karate Kid films. Deviating from the big screen, she joined the cast of Beverly Hills 90210 for one season. Her casting for the lead role in the indie film Boys Don't Cry proved to be a pivotal point in her career as her performance here was universally acclaimed. This resulted to a more prolific career in the 2000s, starring in The Affair of the Necklace, Insomnia, and delivering another noteworthy performance in Million Dollar Baby. Subsequently were her roles in Iron Jawed Angels, The Reaping, Freedom Writers, and P. S. I Love You, and Amelia where she portrayed the titular role. She became less active in the 2010s, only starring in a few films. Returning on TV, she's currently working on the upcoming series The One Percent.
The 42-year-old actress still has her lean figure that she has been maintaining for years. Despite being in her 40s, she has managed to keep her figure notably slender while keeping her muscles incredible in shape. Her portrayal of an amateur female boxer in Million Dollar Baby was the first time that we saw Hilary's physical capacity when it came to her discipline, agility, and stamina. It's just amazing how she has since practiced the same focus up to now.
The training she had undergone to achieve the realistic physique of a real boxer taught Hilary the importance of perseverance in her sessions, as well as the importance of getting fit. For the role that got her her second Oscar for Best Actress, Hilary gained 19 pounds of muscle. Though getting physical wasn't that new to her since she was active in sports as a high school student, it was still challenging for the actress to spend several years in a day to train. The fitness regimen that she had followed was intense, but she was able to surpass this and obtained her desired outcome.