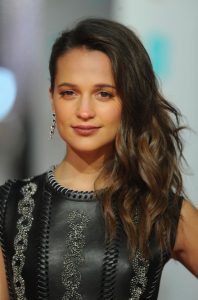 Swedish beauty Alicia Vikander first made a name for herself in her native country before becoming known internationally later. Her roles in Anna Karenina and A Royal Affair paved the way for a Hollywood career. She went on to star in the films The Fifth Estate, Testament of Youth, Son of a Gun, and Seventh Son. All these garnered her significant attention. Though it was in Ex Machina as the robot Ava that brought her to the mainstream radar. In 2015, she starred in the Hollywood film The Man from U.N.C.L.E. and The Danish Girl. For her role in the latter, she won an Oscar for Best Supporting Actress. She is set to star in the upcoming Jason Bourne film.
She's now more active in Hollywood. The announcement of her playing the younger Lara Croft in the upcoming reboot of the film makes her even more interesting. For this reason, Alicia needs to work out more rigorously than before because, well, Angelina Jolie was pretty much badass as Lara Croft. So, she has to be like that in the physical level. She needs to look lean, strong, and agile at the same time. To be fair, Alicia follows a healthy lifestyle in her normal life.
She's slender, but she's healthy and tries her best to stay in shape. This she does by eating nutritious food and exercising as regularly as possible. Sometimes she could be seen hitting the gym or just going jogging. She loves to move around and working out is a good way for her to de-stress while achieving a toned figure. It was also revealed that for her role as Lara Croft, she will use her training as a dancer for the role. She trained in ballet with the Svenska Balettskolan i Göteborg. She started when she was nine. She was with the dance company until 2004. She even traveled around the world to attend summer dance courses.