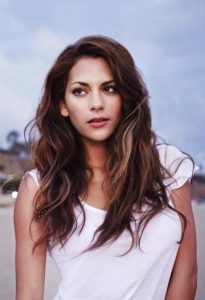 Inbar Lavi studied acting in Tel Aviv, wanting to pursue a career in the field. She later moved to New York when she was 17. Initially, she landed roles in some off-Broadway productions. Ultimately, she landed her first television role in an episode of The CW's Privileged in 2008. The following year, she made one-episode roles in several shows, including The Closer, Entourage, Ghost Whisperer, Criminal Minds, and Crash.
In 2010, she made her film debut in Abelar: Tales of an Ancient Empire. This was followed by roles in the movies Street Kings 2: Motor City, Getting That Girl, and Underground. She simultaneously guest-starred in CSI: Miami, In Plain Sight, and Charlie's Angels. After appearing in the TV movie Immigrants, she got her first starring role on the small screen — playing Raviva in the MTV series Underemployed. After this ended, she played Veronica "Vee" Dotsen in Fox's Gang Related.
Around the same time, she had performances in the feature films For the Love of Money and House of Dust. In 2015, she had a role in the movie The Last Witch Hunter starring Vin Diesel. She also played recurring character Lt. Ravit Bivas in TNT's The Last Ship. Her first lead role on TV was as Maddie in the short-lived series Imposters. Lavi became further known for starring as Sheba in Prison Break's Season 5 and Eve in Lucifer's Season 4. Meanwhile, her most recent big screen role was in Sorry for Your Loss.
Apart from her workout routine, Inbar Lavi keeps in shape by sticking to a clean diet plan. While she indulges in her cravings every now and then, the actress mostly follows a healthy diet. Her meals typically include whole grains, lean meat, and fruits and vegetables. "I consider my body my temple and everything that I put in my body is my fuel," said the actress. "I try to eat very healthy and I exercise regularly."