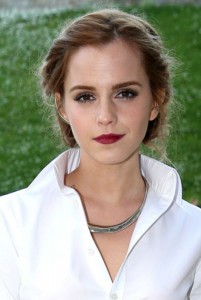 English actress Emma Watson was just a little girl when she first came to prominence courtesy of her portrayal of Hermione Granger in Harry Potter and the Philosopher's Stone released in 2001. The success of the movie adaptation from the book of the same name was a huge hit that it made Emma and the rest of the cast highly popular. She went on to play the character in all Harry Potter films, the last one being released in 2011.
Her first project outside of Harry Potter was the TV movie Ballet Shoes, followed by a voice work in The Tale of Despereaux. After the last Harry Potter movie was shown in 2011, Emma acted in several feature films, beginning with a supporting role in My Week with Marilyn and starring roles in The Perks of Being a Wallflower, The Bling Ring, and Noah. Her most recent work in the cinema are Regression and Colonia.
Emma practically grew up on the screen. With the Harry Potter films subsequently being made every one to two years, the 25-year-old actress has since become a household name. Admired for her beauty, intelligence, and talent, Emma is also known for her slim figure. Standing at 5'5, her slender body frame is just proportional to her height. Aside from working out, the Harry Potter actress takes care of herself by eating right.
She mostly opts for food that's low in saturated fats and salt. She basically avoids eating processed and junk foods, too. Her daily dietary regimen consists of fresh fruits, vegetables, lean meats and salads. She makes sure her diet is balanced with the right amounts of proteins, carbohydrates and fibers. Being young, Emma also enjoys eating and has some cheat days. During this time, she indulges herself in chocolates, pasta, and bagels. She also loves baking so this gives her a reason to eat pastries, too.