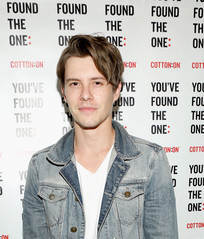 Xavier Samuel Net Worth:
$1.5 million
Xavier Samuel is an Australian actor. In the early 2000s, his acting career started in his native Australia, first appearing in the drama series, McLeod's Daughters. After graduating from drama school in 2006, he made his film debut in 2:37. He went on to appear in some Aussie films before landing his Hollywood debut playing Riley Biers in The Twilight Saga: Eclipse. After this, he played the lead role in the comedy film A Few Best Men. He then landed a role in the ensemble film, Fury, alongside Brad Pitt and
Shia LaBeouf. Continuing his work in Australian cinema, he starred in the 2016 film Spin Out, as well as played the title role in The Death and Life of Otto Bloom. Following this, Samuel starred as Simon Heywood in the TV drama series Seven Types of Ambiguity. This year, he starred as Kit Parker in Amazon Prime's Tell Me Your Secrets. It was also announced that he landed a role in the upcoming film, Elvis.