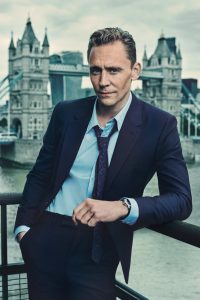 Tom Hiddleston is an English actor who started his career on UK television with a series of roles in mostly TV films. Meanwhile, he made his feature debut in 2006 and took him a couple of more years before he got the role of Loki in the superhero movie Thor, which instantly earned him mainstream notice. The same year Thor was released, he also appeared in other movies where he played other roles in like War Horse and Midnight in Paris. Next, he starred in The Deep Blue Sea. He went on to reprise his role as Loki in The Avengers and Thor: The Dark World. Other roles are in Muppets Most Wanted and Crimson Peak.
The handsome actor may be a villain in Thor, but he has since gained a large following of fans among the world. Known for his good looks, incredible talent, and amazing bod, Tom is the boyfriend you never had. Although he is not as muscular compared to his contemporaries, the actor does not need to be. He looks great the way he is, and being fit doesn't necessarily mean to have huge muscles and to have sculpted-looking chest and abs. As long as he feels healthy and looks fit enough, Tom is in the right path to fitness.
For his role in Thor, the actor trained harder to learn how to execute fight scenes more effectively. To be able to achieve this, he needed to enhance his agility, strength, and endurance level by combining exercises, such as jumping, running, and twisting. Instead of hitting the gym more frequently to train, the actor prefers engaging himself with outdoor activities as he doesn't want to be stuck in a room. For him, working out while having fun is important, that's why activities outside such as sports and outdoor fun stuff are more agreeable to his preferences when it comes to his physical routine.