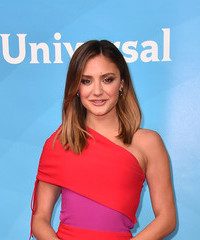 American actress Christine Evangelista recently enjoys a successful career. After small bits on television, she secured her first starring role on the short-lived series The Kill Point. Struggling in the beginning to find traction in the acting business, she tried performing in some short films. This led to more auditions on television, which got her guest appearances on such TV shows as Canterbury's Law, Law & Order, White Collar, Royal Pains, and The Good Wife. She was then cast in the pilot Dumb Girls.
After this, she appeared as Libby Griffith in 666 Park Avenue. The actress subsequently starred as Mary Lavecchia in the ABC series Lucky 7, which was also short-lived. In 2014, Evangelista gained notice for her recurring role as Allison Rafferty in Chicago Fire. Her TV breakthrough came after getting the part of Sherry in The Walking Dead, appeared on the series between 2015 and 2017. Her performance on the show helped her land the lead role of Megan Morrison in the TV drama, The Arrangement. Since 2019, she has also reprised her role as Sherry in The Walking Dead companion series, Fear the Walking Dead.
For sure, her hectic work schedule already keeps her active. But whenever she has free time, the television star keeps her body fit and strong by spending more time outdoors to exercise. "I do a lot of things to stay in shape," shared the actress. "What I like most about hiking is it's free. So, especially when I was really broke, I would come up here all the time. Obviously, it's great for the dog. He has a blast."
While she makes conscious efforts to stay healthy by choosing nutritious foods, working out for her is just as important. The actress also revealed that exercising isn't something she does to stay slim, exercise is more for her mental health. "I cook a lot. I cook a lot of organic vegetables and anti-inflammatory foods, but constantly working out is important more for my mind," she added. While she acknowledges that it's amazing for her body (check out her body measurements), for her it's more about having something that can help her alleviate her stress and anxiety, as well as giving herself some clarity.