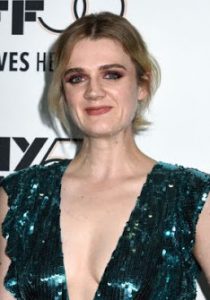 Hollywood star Gayle Rankin started her professional acting career in 2012. Initially, she made her television debut in an episode of Law & Order: Special Victims Unit. That same year, she also appeared in a single episode of My America, as well as acted in the TV pilot called The Missionary. At the same time, she landed roles in a few independent films, such as in Warfield and Frank the Bastard.
She also performed in some short films, after which she starred in the 2016 film The Passing Season. The following year, Rankin gained recognition for her role as Sheila the She-Wolf in the Netflix series GLOW. She has been starring the said part since then. During this period, she also had performances in such feature films as The Meyerowitz Stories, Irreplaceable You, In a Relationship, and Her Smell.
The actress also portrayed Queen Victoria in the musical biographical drama The Greatest Showman. Her latest film roles were in 2019's Blow the Man Down and The Climb. It was recently announced that Rankin was cast for the role of Emily Dodson in the upcoming miniseris Perry Mason. In addition, Rankin has performed in some theater productions.
Gayle Rankin plays a very physically-oriented role in Netflix's GLOW. With this, she makes sure her body is strong and healthy. Her methods to achieving this is simple – she works out regularly and eats healthy; at least most of the time she does. For breakfast, the actress prefers having banana walnut loaf and coffee.
Other times, she indulges in a chocolate chip walnut cookie. For lunch and dinner, she usually has fish or chicken with lots of veggies and rice. Still, she admits cheeseburger and fries, pizza, or some Mexican foods are her guilty pleasures. Moreover, some of her healthy habits include drinking lots of water and taking probiotics supplement.