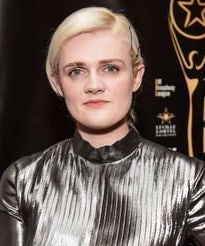 Gayle Rankin is from Scotland who earned a spot at the prestigious Juilliard School, which made her the first one to get accepted. After completing her education, she officially started her professional acting career. She first made her debut in the 2012 independent film Warfield. That same year, she had her first TV appearance in an episode of Law & Order: Special Victims Unit.
She also appeared as Gayle in one episode of My America. The following year, she appeared in the film Frank the Bastard, as well as acted in the TV pilot The Missionary. Afterward, she appeared in some short films before landing a role for the 2016 film The Passing Season. 2017 changed things for Rankin. It was during this year that she started playing the role of Sheila the She-Wolf on Netflix's GLOW.
She also had notable roles in the films The Meyerowitz Stories and The Greatest Showman that same year. She portrayed Queen Victoria in the latter. She next had a supporting role in the romantic drama films Irreplaceable You and In a Relationship. She went on to star in the feature Her Smell. She will star in the upcoming movie Blow the Man Down.
The actress maintains a healthy body thanks to her active lifestyle. Since landing a regular role on GLOW, she upped her fitness routine to improve her figure and feel better about herself. But it's not just the physical aspect of fitness that she works on. That's why she's into meditation.
"I'm really into meditating, which I find has really helped me, and I've been using an app called Headspace. Meditating works emotionally and that helps externally. For example, it has helped me to stop breaking out," said the actress. She also does barre workouts every now and then. In order to have energy throughout the day, she starts her workouts in the morning.