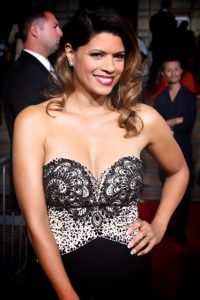 It was in 1995 that actress Andrea Navedo started her career in the show business. Her debut was in the soap opera One Life to Live playing the role of Linda Sotto. Her next notable role was in another soap opera Guiding Light as Theresa Sandoval. In the early 2000s, she first had roles in the films Double Take and Washington Heights. She then became known for her role as Ana Cordova in Law & Order. Afterwards, she made guest appearances in Law & Order: Criminal Intent and Damages.
In the 2010s, she had recurring roles as Debbie Dominguez in How to Make It in America, Lorraine Arroyo in Golden Boy, and as Cynthia Mancheno in Law & Order: Special Victims Unit. Since 2014, she plays Xiomara "Xo" Villanueva, one of the regular casts in the comedy-drama series Jane the Virgin. Her role on the show earned her an Imagen Award for Best Supporting Actress – Television. This year, she appeared in the Netflix movie Bright.
The 5'6 actress maintains her health and fitness through proper diet and regular physical activity. She makes sure she has time for exercising as this helps her to not only sustain her healthy weight but also to give her her much-needed energy and strength. Exercising also helps improve her frame of mind. So, how does she exactly stay in shape? The Jane the Virgin star became candid about her fitness regimen in an interview.
She said: "I work out at least three times a week, but I try to do more than that." She also avoids getting bored, so she makes sure she switches up her workout routine. She alternates from the likes of working on the elliptical to attending salsa lessons. She also has private exercise and Pilates sessions just to keep her regimen varied and enjoyable at the same time. She credits her being great with multitasking that she's able to do an assortment of exercises.