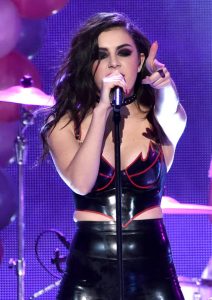 Singer-songwriter Charli XCX first used MySpace as her musical platform in 2008. Through this, she was noticed by a promoter and led to performances in raves and parties. In 2010, she was signed to a label where she released some mixtapes and singles. After about two years, she collaborated with Icona Pop with the single "I Love It". The single turned out to be an international success, gaining the English singer her big break.
In 2013, she released her debut album True Romance. It was well-received by critics but wasn't as successful commercially. She next collaborated with rapper Iggy Azalea with the single "Fancy", which also brought her mainstream prominence. Later that year, she released the song "Boom Clap", which became her first successful solo single. It was the first single from the soundtrack of the film The Fault in Our Stars.
Afterward, she released her second album Sucker, which spawned the songs "Break the Rules" and "Doing It". In 2016, she released the EP Vroom Vroom and the mixtapes Number 1 Angel and Pop 2 the following year. As a songwriter, she's co-written songs for other singers. This includes Iggy Azalea's "Beg for It", Selena Gomez's "Same Old Love", and Blondie's "Tonight".
As a performer, the singer gets a lot of workout from being simply active. As for her diet, she admits that she doesn't follow one nor does she deprive herself of food to lose weight. Right now, she wants to enjoy food, not worry about the ones she eats. Talking about her diet and fitness, she said: "I don't think about either, really. Never. But generally going on stage an hour a night is enough for me. Someday I will probably have to. I'm young, but I also love fried chicken." She's also ventured into movies, lending her voice in such animated films as The Angry Birds Movie and UglyDolls.