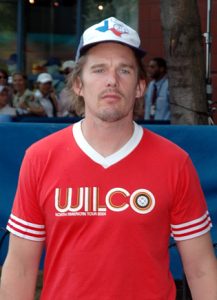 Hollywood actor Ethan Hawke had his career beginnings in the 1980s. He made his debut in the 1985 film Explorers, which got him a Young Artist Award nomination for Best Leading Young Actor in a Feature Film. He next starred in the movie Dead Poets Society. His career flourished in the 1990s starring in the films White Fang, Waterland, Reality Bites, Before Sunrise, Gattaca, Great Expectations, and The Newton Boys. In the 2000s, he starred in the movie Training Day, which got him an Academy Award nomination for Best Supporting Actor.
He reprised his role as Jesse in Before Sunset, which he also wrote. Following this, he starred in the movies Assault on Precinct 13, Lord of War, The Hottest State, and Fast Food Nation. In the 2010s, he had starring performances in the movies Total Recall, Sinister, Before Midnight, and The Purge. For his performance in the 2014 film Boyhood, he was nominated for an Academy Award for Best Supporting Actor. His latest roles were in The Magnificent Seven, First Reformed, 24 Hours to Live, Juliet, Naked, and Stockholm.
After working in the movie Fast Food Nation, the actor became more cautious about his food consumption. This prompted him to drop junk foods from his diet. Apart from that, he also tried to drop animal products from his food habits. In an interview, he was noted for saying: "I've been trying very hard [to go vegetarian] for the last five years and sometimes I succeed and sometimes I don't."
Now that he's turning 50s, it's become more apparent for the actor how he needs to stick to a well-balanced diet at all times. The purpose is not only to maintain his normal weight but to also achieve an overall healthy well-being. Besides, the effects of healthy eating are too great to ignore. Hence, eating healthily these days for the actor isn't that of a challenge.