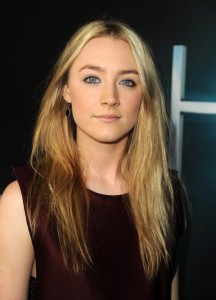 Irish-American actress Saoirse Ronan is now a big star in her own right. Starting the craft at a young age, she won significant attention when she was around 13 for her supporting role in the movie Atonement released in 2007. For her performance in this heart-wrenching feature, she was nominated for an Oscar for Best Supporting Actress, setting her acting career for a promising turn. Her starring role in The Lovely Bones released in 2009 made her an even bigger star, making her one of the few teenage actresses to receive wide critical acclaim. Her subsequent movies are mostly well-known ones, such as Hanna, The Host, and The Grand Budapest Hotel. Her performance in Brooklyn, recently released in 2015 got her another Oscar nomination, her first in the Lead Actress category. Prior to building a career on the big screen, she first started on television, appearing in a few episodes of the Irish TV series The Clinic when she was around nine.
Now 21, the versatile young star continues to catch moviegoers' attention with her strong performances in her cinematic work, particularly the latest, Brooklyn, a romantic drama. Since she's only in her early 20s, Saoirse does not follow any particular dietary regimen as of this time. She's young so she indulges in the food that she likes to eat. Amazingly, the actress who stands at 5'6, has a slender figure, adding to her irresistible beauty. She must be one of the lucky fews who don't really gain so much weight because of a fast metabolism.
However, it doesn't mean that she eats lots of junk foods and other unhealthy stuff. Somehow it also comes naturally for her to mostly seek for nutritious foods, apparently for the sole reason that eating healthy makes one feel healthier. Since she's busy with her work as an actress, Saoirse turns to her eating habits as a way to gain energy. She mostly loads up her diet with foods rich in proteins like meat and fish such as mackerel and sardines. She also makes sure she incorporates veggies and fruits into her daily diet, drinking vegetable juices and eating beets to feel great from the inside. She's fond of black tea, drinks unsweetened energy drinks, and snacks on sweet potatoes and cottage cheese.