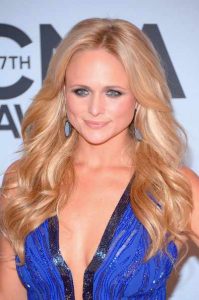 Hollywood artist Miranda Lambert started her recording career in the mid 2000s. Her first album, Kerosene, was released in 2005. Songs from the album, such as "Bring Me Down" and "Kerosene", became hits. Two years later, she released her next work Crazy Ex-Girlfriend. It spawned the hit songs "Famous in a Small Town", "Gunpowder & Lead", and "More Like Her". She has since released other albums: Revolution (2009), Four the Record (2011), Platinum (2014), and more recently The Weight of These Wings released in 2016. She's also appeared on the reality series The Voice as an advisor. In 2012, she made her acting debut in an episode of Law & Order: Special Victims Unit.
The 34-year-old country singer is not ashamed to reveal that she's tried all kinds of fad diet there is. It's not a secret that the celebrity has had weight issues over the years. But more recently it can be noticed that her body is leaner and more toned. In an interview, she said: "I did [Nutrisystem] for a month, and then got tired of it. You get tired of any diet. I've tried everything." But she knew it was just a matter of sticking to something simpler. She said: "I just literally would make grilled chicken breast, sweet potato salad. There was no miracle."
She eventually became more fond of fruits and veggies, which has since helped her lose weight. She revealed: "I like broccoli with cheese, and carrots with ranch dressing. It's just how I eat." She also keeps herself healthy by drinking green juice everyday. She said: "So if I don't eat anything else green that day, I feel like I've got my green in." Now she's more of a healthy eater and that comes out naturally, which is great because she doesn't need to motivate herself to eat healthy. It's just something that she naturally does.